Full-Time

Maintenance Manager
Job Description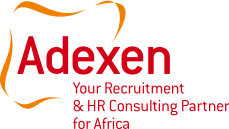 Adexen
Nigeria


Permanent

Full-time
Adexen was mandated by an international FMCG company to recruit a Maintenance Manager for their operations. The position is based in Nigeria.
Responsibilities
Ensure that the production line and the bulk area is running at maximum efficiency with reducing minimum breakdowns and within the planned cost parameters of Manpower, Material and Maintenance.
Develop and implement predictive, routine and preventive maintenance program for electrical, electronic and mechanical aspects of operations.
Identify recurring equipment problems, analyze rood cause and implement corrective repairs.
Ensure that subordinates carry out their duties as and when due. Organize and adapt shifts in 24/7 that cover all production needs in different seasons.
Control monthly Maintenance Expenses. Build year Maint. Budget.
Maintains the conditions of the line based on standard engineering practices
Supervise and ensure the implementation of all quality control procedures to achieve the highest level of product quality
Ensure that all product produced are as per standard and eliminate wastage of products and materials to the barest minimum
Maintain the highest environmental and sanitation standards within and around the plant
Ensure effective supervision and performance of staff and machinery on lines
Set daily production mix levels and shift arrangements to meet the daily requirements of Sales
Ensure that materials usage and yield are kept at optimum standard level
Review and analyze Production and Down Time reports.
Follow-up with appropriate resources to systematically eliminate sources of Down Time
Desired Skills and Experience

Bachelor's degree in Mechanical / Electrical / Electronics Engineering from a recognised University
Master's degree is a plus
Minimum 8 years of performing Engineering and Maintenance duties in a Food/Beverage Company in a senior management role
Organizational skills
Project Management skills
Analytical ability
We thank all applicants however only those selected will be contacted.
Industry
FMCG
Job Seniority
Manager
Job Category
Engineering and Production
Employment Type
Full time
Experience
5 – 10 years
Skills
Budgets, Factory, Materials Management, Team Leadership, Manufacturing, Team Management, Maintenance Management
Adexen


28 total views, 1 today
Apply for this Job