Full-Time

User Experience Designer at eHealth4everyone
Job Description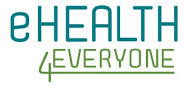 eHealth4everyone
Abuja, FCT


Permanent

Full-time
Abuja
Date Posted: 2021-09-03
eHealth4everyone is a digital health enterprise based in Nigeria (Africa) contributing to health service delivery using data science and information technology. We are recruiting to fill the position of User Experience Designer in Garki II, Abuja (FCT).
Job Description
We are looking for a User Experience (UX) Designer who shares our love for great design, has a love for research and data, a strong background in UX for multiple platforms, and is a quick-thinking problem solver who works well with all types of people in an environment that encourages a variety of thought processes.
Must have a diverse portfolio demonstrating mastery of craft and a track record of results: the design of engaging experiences that created positive outcomes for both the customer and the business and should be able to work independently and with little or no supervision remotely.
Qualifications
Minimum of a Bachelor's Degree in Graphic Design or other Design subject, Fine Art, Engineering or other related fields.
At least one year of experience is required.
Skills:
An ability to work remotely across multiple projects and tasks.
Great attention to detail, highly organized
Strong knowledge of industry tools e.g Adobe XD, Sketch, InVision, Figma, Illustrator. UX Writing & documentation, Proficiency in creating user stories, personas, sitemaps, wireframes, prototypes , assets, icons, mockups and storyboards.
Ability to plan and conduct user testing, surveys, and formal evaluations.
How to Apply
Interested and qualified candidates should apply on or before 15th September, 2021.
Careersome
10 total views, 1 today
Apply for this Job